Open multideck cabinets powered by Aircell® powered cabinets offer many advantages over traditional open display cases or those fitted with either doors or shelf-edge technology.

The combination of energy savings, storage gains, food waste reduction, improved merchandising and low maintenance results in very significant financial benefits for all users.
Reduced Energy Consumption 
Forward thinking retailers are addressing energy consumption to cut costs and reduce their carbon footprints. Legislation, regulations and spiralling costs will mean that energy efficiency will remain high on the agenda.
Aircell® delivers substantial reductions in energy consumption with savings of more than 30%. Every 2.5m cabinet can save £100s and over 1 tonne of CO2 per year.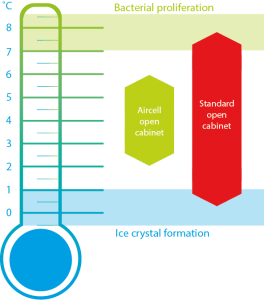 Prolonging the Quality of Perishable Food 
Aircell® delivers a 60% narrower temperature range (2°C to 6°C) for optimum food storage and display and keeps food fresh with extended shelf lives.
Warmer temperatures than these accelerate bacterial proliferation and the development of dangerous toxins. Colder temperatures may cause unpalatable ice crystal formation, changing the look, taste and texture of food.
Large Capacity & Merchandising Versatility 
Cabinets powered by Aircell® offer a larger display shelf area than competitive display cases ensuring that there is more product on the shelves. 
This reduces the potential for shelf stock being exhausted and consequentially, lost sales – especially during peak periods.
It also reduces the frequency of shelf restocking. 
Aircell® offers versatility in terms of shelving configurations. Each ducted shelf may be adjusted to three height positions, whilst the standard intermediate shelves are fully adjustable.